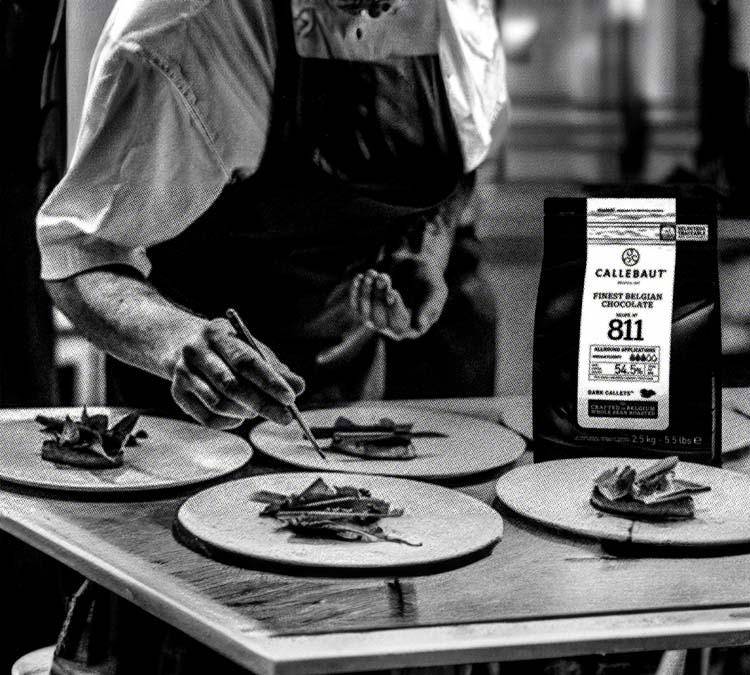 THE TASTE OF
811 REMASTERED
PERFECTLY BALANCED
MORE INTENSE
PREFERRED BY 8 OUT OF 10 CHEFS*
WHAT CHEFS WANT
AN ALL-ROUND  COUVERTURE CHOCOLATE WITH A PERFECTLY
BALANCED TASTE, ALLOWING ALL FLAVOURS TO SPEAK
Chefs expect us to bring chocolates with a balanced taste to the table. Balanced means: all flavour notes and aromas speak in harmony. Roasted notes, acidity, bitter and sweetness. A taste that works across different creations, from bonbons to desserts and patisseries. A taste that allows for more pairings. And a taste that is consistent. The remastered 811 checks all these boxes.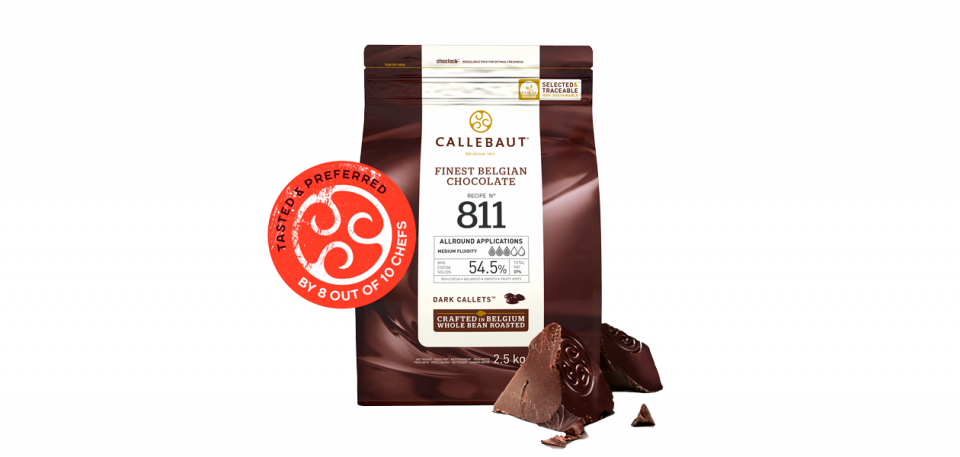 *ABOUT THE RESEARCH
 
*8 out of 10 chefs preferred the taste of the new Callebaut 811 versus its peers.
During blind tastings with 125 chefs participated they were asked to taste and express their preference. When asked about their preference the balanced taste of the preferred chocolate was the driver for their preference. Especially the fruitiness and more complex flavour profile were mentioned as key assets chefs are looking for in a chocolate. 
THE REMASTERED 811
THE MOST BALANCED CHOCOLATE TASTE EVER CREATED
In the remastered 811, you'll experience the evolving taste: first intense cocoa, then notes of banana, red fruit, bitters, caramel and vanilla in harmony with the solid cocoa body. 
INTENSE COCOA BODY. MORE FRUITINESS. MORE BITTER NOTES. MORE COMPLETE.
When tasting the remastered 811, you will experience that every flavour note - even the most delicate ones - are expressed in harmony. First, roasted cocoa notes hit the palate. What follows is fruitiness (red fruits) and refreshing acid notes, pleasant bitters and a perfect dash of caramel sweetness and subtle vanilla. And eventually the round cocoa body lingers on. the new 811 yields a more complete taste sensation, touching all areas of the taste spectrum.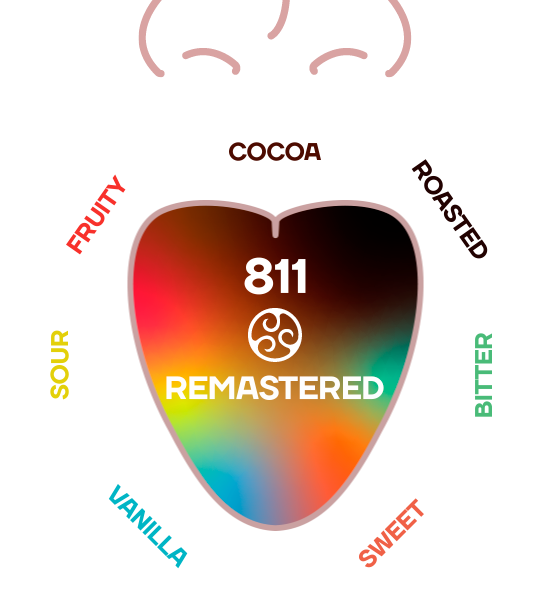 THE REMASTERED 811
UNLIMITED PAIRINGS
The balanced taste of the new 811 opens up a considerably wider range of flavours and ingredients to pair with. After extensive testing, our chefs concluded that more ingredients can be successfully paired with 811 than any other chocolate ever did before.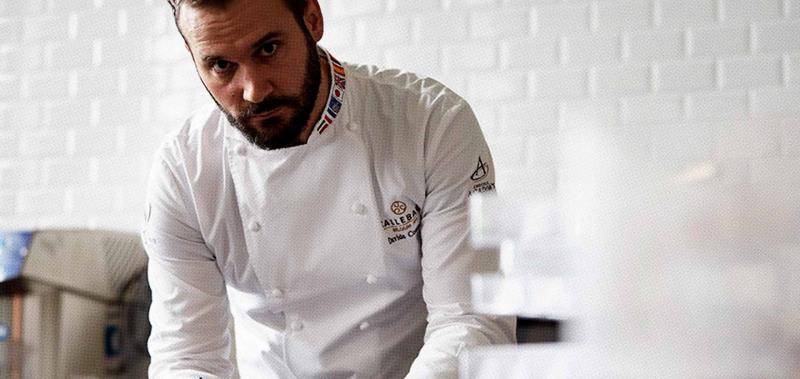 THE REMASTERED 811
BETTER, MORE HARMONIOUS PAIRINGS.
From chocolate mousses to crémeux and ganaches: when paired with ingredients ranging from fruits to spices, you will achieve a far better taste harmony. The balanced taste of the 811 allows other flavours to express  themselves more harmoniously in combination with the chocolate flavours.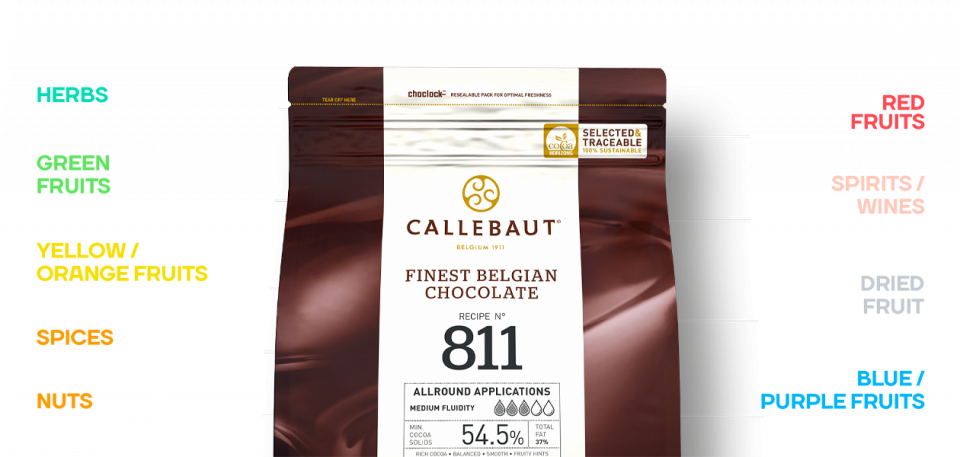 PAIRING HARMONY WITH REMASTERED 811
In pairings with the remastered 811, chefs can achieve a perfect harmony with a wide variety of ingredients. The balanced taste profile of the 811 even guarantess that pairings with delicate flavours, like apricot, are perceived as wonderfully harmonious. 
THE REMASTERED 811
MORE INTENSE IN EVERY SENSE.
When remastering the taste of 811, we also aimed at making it more pronounced. You will experience that it still has the typical Callebaut character and recognisable taste - yet we made it more intense and proportioned its intensity to every basic taste component: cocoa, roasted, bitter, fruity, vanilla and sweet notes. 
Previous 811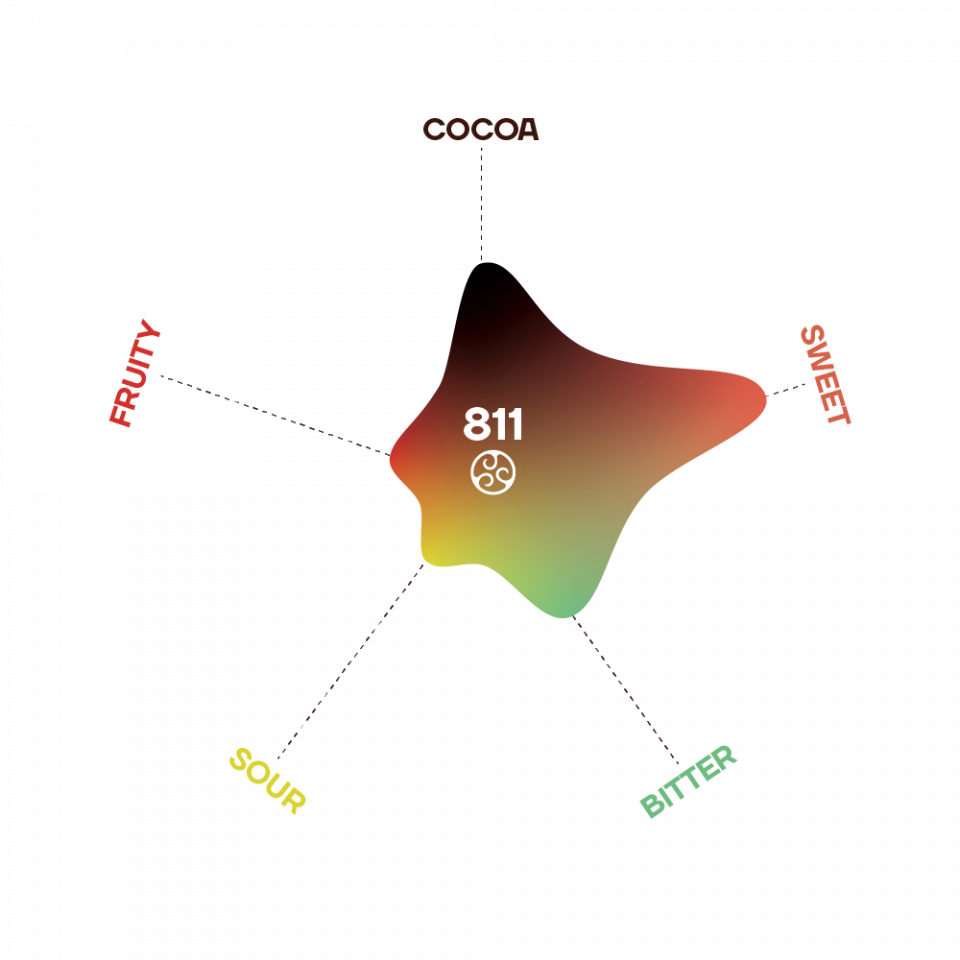 Remastered 811