With the NXT chocolates, you make a choice for delicious, 100% plant-based chocolates. But there's more! To preserve the great taste of our chocolate and deliver it to your kitchen in optimal conditions, we reworked our packaging to be more sustainable.       
After the 10 kg, you can now also help us recycle the 2.5 kg packs.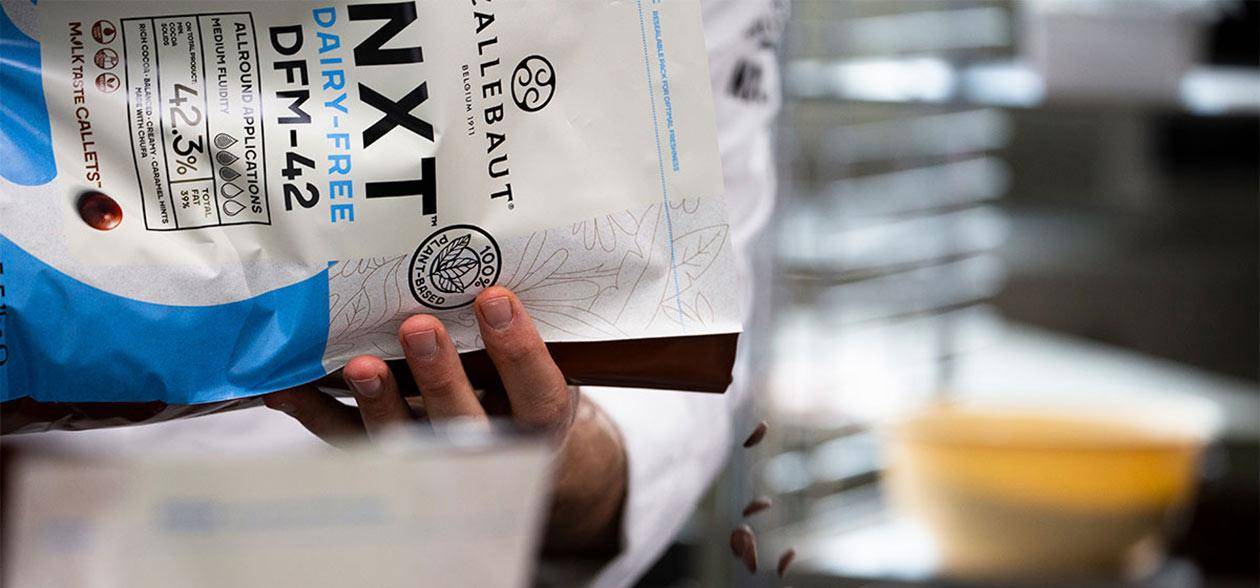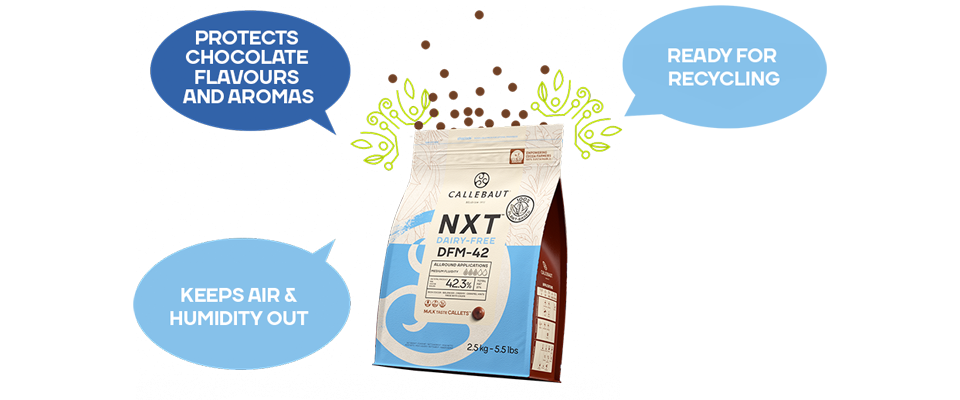 THE NXT PACK: KEEPS GREAT TASTE
IN OPTIMAL CONDITIONS
From now on, all NXT dairy-free packs are made from a new monomaterial PE foil that protects the flavours and the aromas of your chocolate as good as before. It keeps air and humidity out, and all the flavours inside, until you open it to get to work.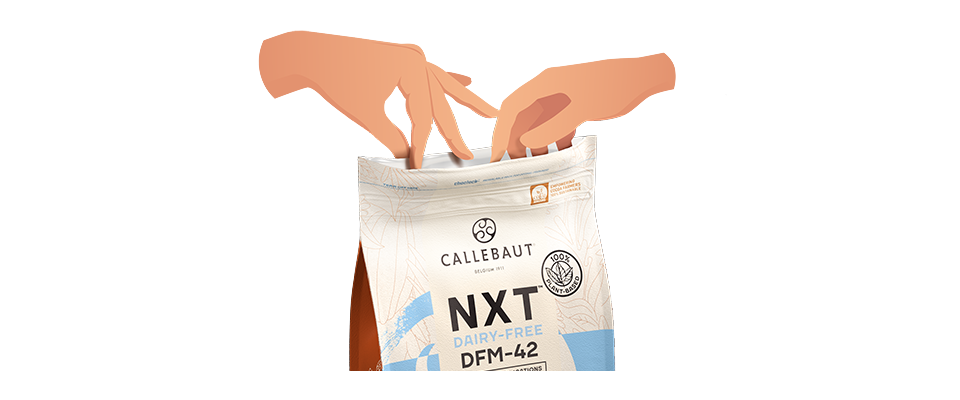 FRESHNESS SEALED, TO THE LAST CALLETS™
The integrated ChocLock™ seal is super easy to open and close your pack after every use. It allows you to dose precisely what you need, and keep the rest of your chocolate fresh to the last Callets™.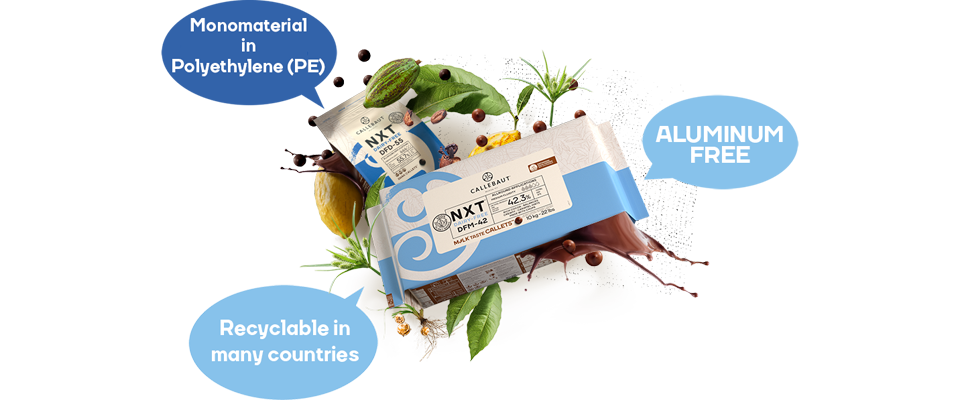 ONE MONO-MATERIAL TO PUSH RECYCLING FORWARD
Our NXT packaging is designed for recycling, with all packaging components including labels made from polyethylene (PE). That choice makes it fit for recycling streams in a majority of countries. As soon as your pack is empty, you can sort it with other soft plastic packaging materials to start its new life (depending on your local collection and sorting rules)
Conscious choice for a mono-PE barrier material:
It preserves the taste, freshness and workability of our delicious chocolate perfectly.
It is suitable for recycling in a wide range of countries.
It is recycle-ready in countries/regions where sorting and recycling infrastructure is under development.
It is a widely available material.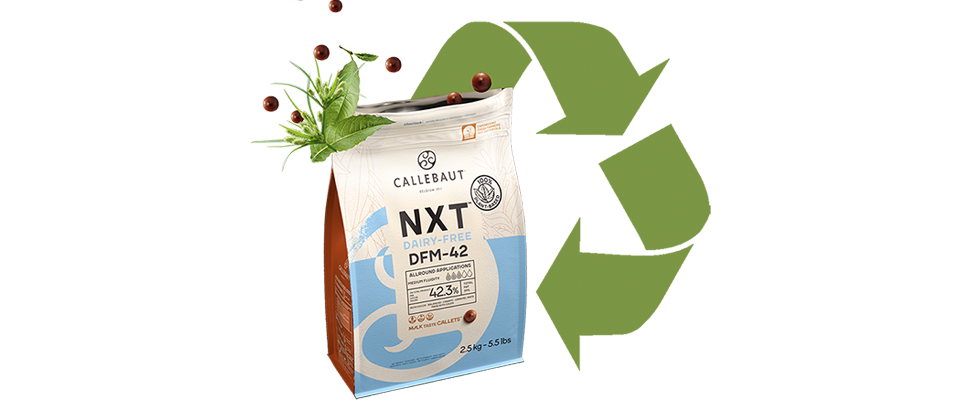 WHY DO RECYCLABLE BAGS MAKE A DIFFERENCE?
Packaging is an unavoidable part of everyday life. It protects our products, preserves them, enhances them, displays important information, and allows safe transportation. We have chosen to work with a mono-material packaging in PE for many reasons:
It prevents food waste by optimally protecting the product over a long shelf life.
It can be recycled in many countries. This way, we avoid empty packs ending up in landfill or polluting nature as plastic waste.
Polyethylene (PE) is a valuable material resource that can be reused over and over.
When these PE bags are being recycled mechanically in a closed loop, it results in the following benefits compared to the multi-material packaging:
Reducing carbon footprint by -56%
Lowering energy demand by -45% 
Decreasing water consumption by -22%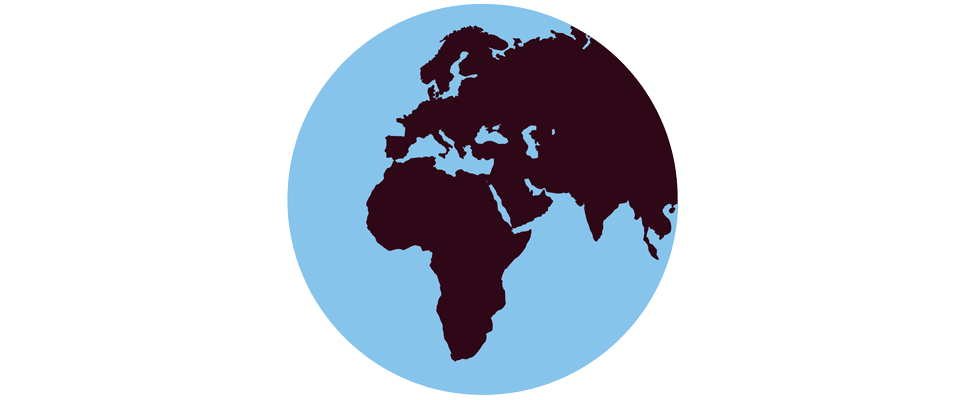 HOW RECYCLING WORKS IN YOUR COUNTRY
Recycling works different in every country – sometimes even city or region – based on local regulations and recycling streams.
To know how to sort and give waste a second life click on the links below or:
• Get in touch with your local authorities or your local waste processing companies for concrete advise.
• Regularly come back to check this page for updates about the recycling rules  for your country.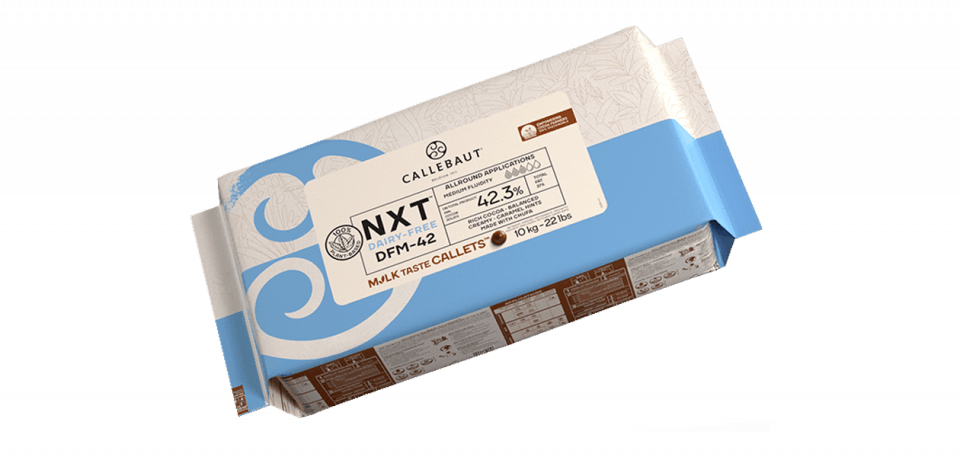 THE 10 KG NXT PACKAGING SAVES TREES, CO2, TRANSPORT AND MORE!
We also re-designed the 10 kg packaging for NXT and our entire Finest Belgian Chocolate range to be firmer, compact and stable. And that brings many benefits to you, and to our planet!
1. Easier to stack & store

2. Better grip

= easier to lift, open and handle

3. Bye bye boxes

= saving 449 tonnes of carboard /year = saving 7.633 trees /year = less waste for you to handle

4. The compact shape allows 30% more bags on each pallet

= less transport needed = 240 lorries less on the road /year = 34 tonnes less CO2 /year